BOOK - SIGNED EDITION
Harry Potter and the Philosopher's Stone
DESIGN:
ENGLISH (UK)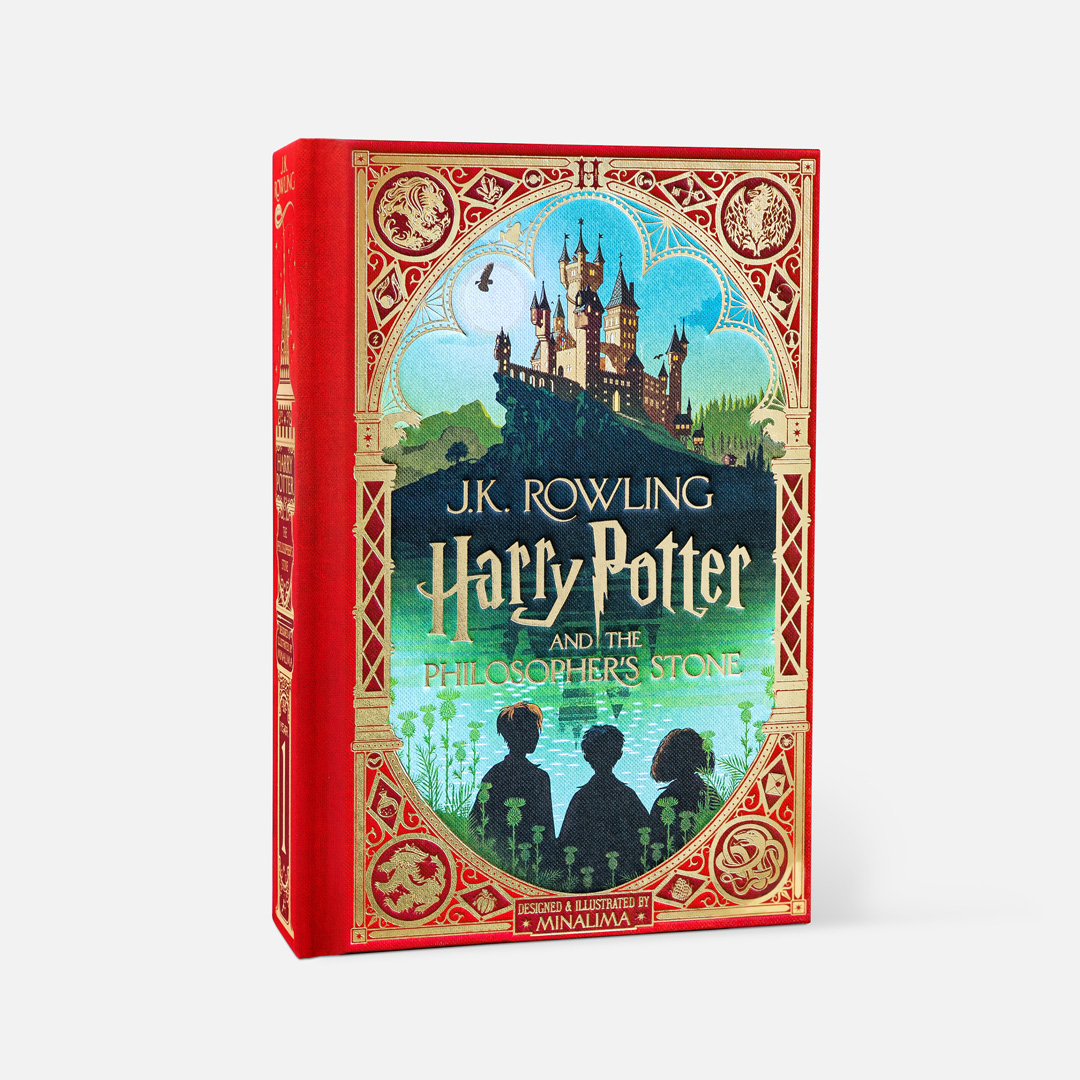 Experience the magic of 'Harry Potter and the Philosopher's Stone' with our richly illustrated adaptation of Harry's first adventure. Creatively reimagined, the story comes to life with over 150 brilliant illustrations, eight interactive paper-engineered elements, and playful design details on every page. Brimming with magical delights and spellbinding scenes, our deluxe edition invites fans new and old to discover the wizarding tale as never before.

Every book purchased from MinaLima includes an exclusive bookplate hand signed by Miraphora and Eduardo.
Climb aboard the Hogwarts Express and set off from Platform 9¾ on a magical adventure with Harry Potter and his friends. Mysterious letters written in emerald green ink begin arriving at Number 4 Privet Drive, launching Harry from his dull life with the Dursleys into an extraordinary world of magic wands and flying broomsticks. If starting at Hogwarts School of Witchcraft and Wizardry and tackling mountains of homework weren't enough, there's a terrifying three-headed dog in the forbidden corridor on the third floor – and Harry can't helping wondering what it could be guarding, and why. With interactive paper-engineered elements that lift magic from the page, readers can open Harry's iconic acceptance letter, reveal the enchanted entryway to Diagon Alley, and even make a sumptuous Christmas feast appear in the Great Hall at Hogwarts.
Cover: Hardcover with gold foiling & embossed details
Text: Complete & unabridged
Pages: 368
Author: J.K. Rowling
Design & Illustration: MinaLima
Publisher: Bloomsbury
Publication: October 2020
Size: 229 x 152 x 38 mm
Weight: 1.09 kg